Portugal (officially the Portuguese Republic (Portuguese: República Portuguesa), is a country on the Iberian Peninsula, in Southwestern Europe. It is the westernmost country of mainland Europe, being bordered by the Atlantic Ocean to the west and south and by Spain to the north and east. The Portugal–Spain border is 1,214 km (754 mi) long and considered the longest uninterrupted border within the European Union. The republic also includes the Atlantic archipelagos of the Azores and Madeira, both autonomous regions with their own regional governments.
Links To Peel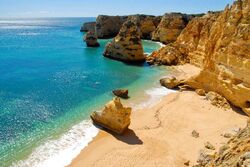 Peel went to Portugal in March 1984 and commented before going that he would be lying motionless in the sun:
"I've chosen to go to Portugal in the week of the Milk Cup final, so I shall be lying motionless in the sun like a beached whale while the lads are battling at Wembley."[1]
After returning from Portugal, Peel recommended listeners visit the country on his 03 April 1984 show.
Between 1993 and 1994, Peel did shows for a Portuguese radio station, named XFM, which were recorded at his home in Peel Acres.
Sessions
Festive Fifty
See Also
External Links
Community content is available under
CC-BY-SA
unless otherwise noted.