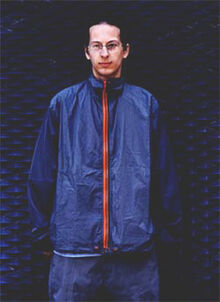 Michael Paradinas (born 26 September 1971), better known by his stage name μ-Ziq (pronounced "music" or mu-zik),is an English electronic musician from Wimbledon, London. He is one of the pioneering IDM electronic music acts during the 90's, alongside Aphex Twin, Autechre, and The Orb. He is also the founder of the record label Planet Mu. His critically acclaimed 1997 album, Lunatic Harness, helped defined the drill 'n' bass subgenre and was also his most successful release, selling over 100,000 copies.
Links to Peel
In an interview with FactMag website, Paradinas mentioned listening to Peel when he was young:
"I listened to the radio. John Peel, Colin Dale and Colin Faver – Colin Dale's Abstract Dance show. And Kiss as well. I could get a bit of pirate radio where I was in Raynes Park, but not the same as if I'd been further into London" [1]
In 1995, Paradinas set up the Planet Mu label, which sent many records to DJ's including Peel and in 2000, he did a session for his show. In 2004, Paradinas paid tribute to Peel by doing a 10 minute set on his tribute programme, broadcast on BBC Radio One.
Sessions
1. Recorded: 2000-02-10. Broadcast: 16 February 2000.
Green Lanes / Toy Gun 2 / Johnson's Q Fab / Sunkist N' Vectif
2. Recorded and broadcast 16 December 2004, Peel Night tribute show.
Other Shows Played
μ-Ziq
Kid Spatula
Rude Ass Tinker
External Links