Show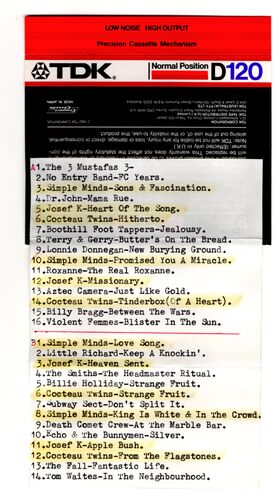 Name
Station
YYYY-MM-DD
Comments
Muriel Gray's second night standing in for John.
Three recordings are available. a) is the complete show; b) is taken from Peel April 1985 of Weatherman22's Tapes (tracks marked #); and c) is taken from a haul of 1500 mixed edited radio show tapes, purchased from a Scottish collector by a group including Peel Mailing List member Haze (tracks marked §).
File a) appears to be running a little slow.
Session Repeats
Tracklisting
File
Name
a) 1985-04-03 Muriel Gray
b) 1985-04-xx Peel April 1985
c) 1985-04-02 & 08 (Muriel Gray).mp3
Length
a) 02:04:31
b) 01:11:19 (to 00:41:08)
c) 00:37:49 (to 00:14:59)
Other
a) Many thanks to Brockleyal.
Available
Community content is available under
CC-BY-SA
unless otherwise noted.