Show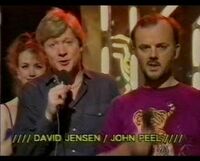 Name
Station
YYYY-MM-DD
Comments
Hello admirers, we're the Torville & Dean of popular music. No, actually he's Kid Jensen. He may not look like it, but he's lots of fun.
Peel : Shiny Shiny, that's Haysi Fantayzee. I hope my mother didn't see that! Brian? Jensen : Haha, thank you Jane.
Jensen : The second great success story of '83, this is Kajagoogoo and this is called "Too Shy".
Peel : I liked his hat. That's Kajagoogoo. What did you mean, the number two success story of the year? Jensen : Well, I meant Wah! being number one. Peel : Ah I see. Well that's right, fair enough.
At 26, Incantation and "Cacharpaya"... delicious with a white wine sauce.
Jensen : Well we've had a number of letters from viewers recently who've commented on the great quality of some of the pop videos around. Haven't we John? (Peel pretends to be in a world of his own) John? Peel : Oh yes, we call this section of the programme the Top 10 Video Show. Cute, eh? Well it was his idea!
At No.5, "Too Shy", Kajagoogoo. We've already seen these little blighters. I mean enough's enough ,eh?
At No.3, a former No.1... "You Can't Hurry Love", Phil Collins. Phil wants to travel and meet people.
Tracklisting
Haysi Fantayzee – Shiny Shiny (36 in the chart as of the date of broadcast)
Video
Community content is available under
CC-BY-SA
unless otherwise noted.