Show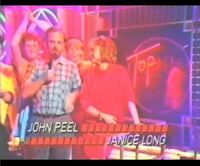 Name
Station
YYYY-MM-DD
Comments
This was the seventh program hosted John Peel in 1984, although on this occasion he is not partnered by regular sidekick David Jensen, but by Janice Long, with a brief appearance by Bruno Brookes. This was the week's singles chart.
Session artists and other Peel-related acts now very thin on the ground in the charts world. Queen are going down, Frankie Goes to Hollywood no longer at no.1 although still with two singles in the top 30. Rod Stewart just inside the top 20 and The Smiths are at no.17 with "William it were really nowt".
Peel reads the chart rundown voiceover from nos. 25 - 11, "At 12 Master & Servant, both by Depeche-ay Mode and at no.11 here in the studio Alphaville - big in Germany, big in Britain, big in Japan.", and alternates the voiceover with Long from nos. 10-1: "At no.3 still, Agadoo - Black Lace, what a gem!"
Tracklisting
Bucks Fizz – Talking In Your Sleep (21 in the chart as of the date of broadcast)
Spandau Ballet – I'll Fly For You (9) (video)
JP: I'll Fly For You Argentina - that's Spandau Ballet mashing it up at no.9.
JL: They're on tour at the moment. In Nottingham tomorrow. JP: I'm at the Public Baths, Scunthorpe on Saturday. JL: Doin' all your hits! JP: Of course!
JP: Hot water nurse! Lots of hot water! That's Level 42 and their best ever in my estimation.
JP: That's Alphaville and their tribute to the legendary Liverpool band Big In Japan. JL: Where are they now? .....
JP: Our Janice is another graduate from the John Peel School of Broadcasting. JL: Thank you very much!.
JP: Well I bet whoever was on the other end of that has hung up by now. That's Stevie Wonder with a new no.1 record.
BB: I've got to present this show next week can you give me a bit of advice? JP: Just don't do it like this.
JP: This is Elton John playing us out with Passengers. Runners-up again this year Elt?
Elton John – Passengers (5) (audience dancing / credits)
Video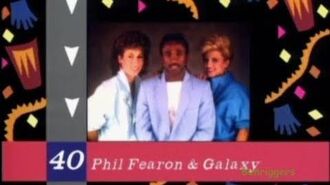 Community content is available under
CC-BY-SA
unless otherwise noted.