Show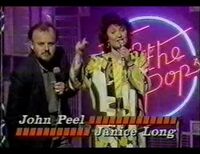 Name
Station
YYYY-MM-DD
Comments
This was the third program hosted by John Peel during 1985, again with Janice Long. This was the week's singles chart.
Tonight's show was a live presentation and for the first time was moved to a new regular time-slot of 7.55 pm (previously 7.30 pm).
Peel-related and session artists getting pretty thin on the ground at this point. Groups such as The Damned, Dead or Alive and The Smiths all on their way down, although Tears For Fears were going up (and on the show) and China Crisis were a "breaker" at no. 32.
"At 39, here is Foreigner – runners up in the Los Angeles young businessmen of the year competition, 1974."
Long: "You're looking really fit, tanned and healthy. What have you been doing?" Peel: This is my George Michael home suntan kit - there's a little humour for you listeners!" JL: "Can you sing like him?" JP: "Even better. The charts!"
Long : "Up to 26 it's ABC and "Be Near Me". Peel : "Not for a bet, dear! At 25, Dream Academy and "Life In A Northern Town". Long : "And King at 24, "Won't You Hold My Hand Now?" Peel : "Not likely! 23, "Love Is A Battlefield", Pat Benatar."
Peel : "And at 21, Power Station – "Some", Janice, "Like It Hot". Long : "Oh yeah!"
Peel : "This is our sexual chemistry shot. She's unquenchable!" Long : "When are you going to build me a pleasure dome?"
Tracklisting
Video