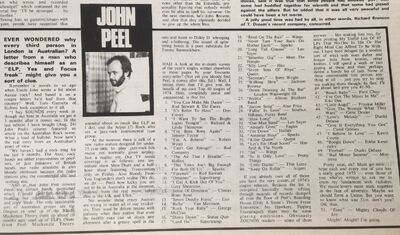 Peel in his Sounds music paper column, published on 4th January 1975, wrote his personal favourite top 40 singles of 1974, with the additional favourite singles from positions 41-50 as well as revealing his 51st favourite single of that year:
Rod Stewart & The Faces: You Can Make Me Dance
Don Covay: It's Better To Have
Richard & Linda Thompson: I Want To See The Bright Lights Tonight
Johnny Taylor: I've Been Born Again
Robert Wyatt: I'm A Believer
Bad Company: Can't Get Enough
Hollies: The Air That I Breathe
Sparks: This Town Ain't Big Enough For Both Of Us
Rod Stewart: Farewell
Supertramp: Dreamer
Gary Shearston: I Get A Kick Out Of You
Climax Blues Band: Sense Of Direction
Eno: Seven Deadly Finns
Van Morrison: Bulbs
George McCrae: Rock Your Baby
Status Quo: Down Down
Supertramp: Land Ho
Wings: Band On The Run
Sparks: Never Turn Your Back On Mother Earth
Leo Sayer: Long Tall Glasses
Mott The Hoople: Saturday Gigs
10cc: Silly Love
Queen: Seven Seas Of Rhye
Betty Wright: Secretary
Jackson Browne: Walking Slow
Loudon Wainwright III: Down Drinking At The Bar
Allman Brothers Band: Jessica
Alan Price: Jarrow Song
Souther-Hillman-Furay Band: Fallin' In Love
Ace: How Long
Leo Sayer: One Man Band
Eagles: Already Gone
Hollies: I'm Down
Sparks: Amateur Hour
Queen: Killer Queen
Hatfield & The North: Let's Eat (Real Soon)
Wings: Jet
Pretty Things: Is It Only Love
Thin Lizzy: Little Darlin'
Argent: Keep On Rollin'
First Class: Beach Baby
Kiki Dee: I've Got The Music In Me
Frankie Miller: Little Angel
Gene Dozier: Give The Women What They Want
Ducks Deluxe: Love's Melody
Carol Grimes: Give It Everything You Got
Kevin Coyne: I Believe In Love
Eddie Kendricks: Boogie Down
Ducks Deluxe: Fireball
Montrose: Bad Motor Scooter
Mighty Clouds Of Joy: Time
Peel mentions in the article that the list was 'compiled basically from sifting through mounds of records dumped all over the floor of Peel's Boarding House (Only A Stone's Throw From Tomorrow, No Hawkers. Tipping Encouraged).'
Community content is available under
CC-BY-SA
unless otherwise noted.