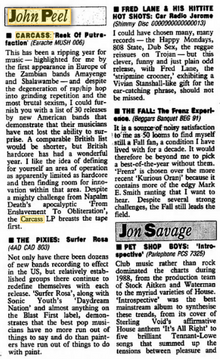 The Observer asked several music critics, including John Peel, their four favourite albums of the year, that was published on 11th December 1988.
Peel chose his four favourite albums of the year:
Peel mentioned also Napalm Death's From Enslavement To Obliteration, Sonic Youth's Daydream Nation and The Fall's Kurious Oranj as album contenders.
Amayenge, Shalawambe, Happy Mondays, 808 State, Dub Sex, the reggae re-issues of Trojan and almost anything on the Blast First label were mentioned as other highlights of 1988.
Community content is available under
CC-BY-SA
unless otherwise noted.