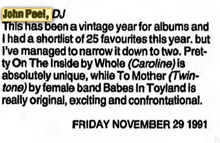 In the Music Choice section of the Guardian published on 29th November 1991, several DJ's, musicians and media celebrities were asked what their favourite albums of the year. Andy Kershaw and Peel were both asked, where Kershaw gave Robert Ward's Fear No Evil as his favourite, whilst Peel gave two albums that were his:
This was the following comment that Peel made that was published in the Music Choice:
"This has been a vintage year for albums and I had a shortlist of 25 favourites this year, but I've managed to narrow it down to two. Pretty On The Inside by Whole (sic) (Caroline) is absolutely unique, while To Mother (Twintone) by female band Babes In Toyland is really original, exciting and confrontational." [1]