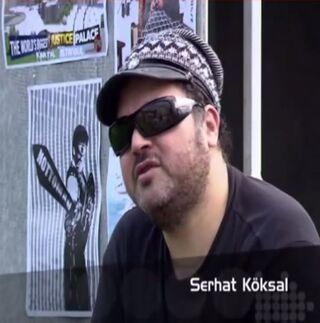 2/5 BZ
is a Turkish one man multimedia project created by 
Serhat Köksal
in 1986, who combines traditional Turkish music, noise, ambient, big beat and numerous other stylistical references, such as collages of music, cinema, speech and field recordings. So far 2/5 BZ has performed at well-known festivals such as Club Transmediale in Berlin, collaborated with numerous musicians such as
Tim Hodgkinson
 and a session for
John Peel
in 2003.
Links To Peel
Peel discovered 2/5BZ when he was making a programme about Turkish music for the BBC World Service in 1994, when he visited Turkey. On his show on 26 November 1994 (BFBS), Peel explains that he discovered the one man project by the cassettes he was given:
"In Turkey I picked up as always a load of cassettes and stuff and you know some interesting stuff in there, but only one really really rather astonishing recording and that's by a one man band called 2/5 BZ" 
On the 19 November 1994 (BBC World Service) show, Peel had the chance to interview Serhat Köksal in Turkey through an interpreter, where he described his music. Peel also invited Serhat to do a session for his show under the name of 2/5 BZ, which was played on 06 May 2003. 
Sessions
The one and only session is available on the single Peel Session (12", Gözel Records)
1. Recorded: 2003-01-01. Broadcast: 06 May 2003. Repeated: None
No Turistik, No Egozotick / Etnik Market, Etnik Paranoia / Ampul / Şer Ekseni
Other Shows Played
1994
1995
1997
1998
28 January 1998: Opua Dişın (album - 2/5 BZ) CDR White Label
19 March 1998: Yokmlus Varmis (album - Duzenin 7 Ceddine) no track of that name is on the tape on Discogs
2004
External Links
Community content is available under
CC-BY-SA
unless otherwise noted.