Show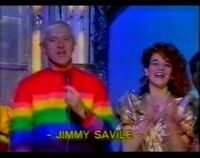 Name
Station
YYYY-MM-DD
Comments
This was the only program hosted by John Peel in 1981 and was the Christmas day special edition featuring a wide array of Radio One DJs: he refers to his impending appearance (which presumably had already been recorded) in the radio one show of 24 December 1981 during the Festive Fifty chart. This was the week's singles chart.
This was the first time that John had hosted a show in any capacity since 1968 and would be the beginning of an era when he became a regular presenter, often accompanied by David Jensen in 1983 and 1984, and then Janice Long in 1985, 1986 and 1987.
Interesting to note that many of the groups on the show had been discovered or championed by Peel, or had featured as session artists (Teardrop Explodes, Human League, The Beat, Ultravox, Altered Images, OMD) and were now among the top acts of the year.
That's Kim Wilde. Nice head of hair, nice pair of boots... 17 quid she told me. Last time I was on this programme, I forgot the name of the Amen Corner. No chance of me forgetting the name of the, uh, uh ... Human Leagues!
This is getting to be a pretty regular gig for me. That was Laurie Anderson and "O Superman". And I'm sorry about these people, I like to take the kids with me when I go out working. The band that's going to be the biggest band of 1982... Altered Images.
Tracklisting
Video