Show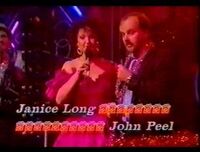 Name
Station
YYYY-MM-DD
Comments
"I'm very proud to be among those artists who have achieved a number one, with a really traditional Christmas song – especially as it has become a classic that continues to chart, without any physical product." Michael Barrett, aka Shakin' Stevens, who was responsible for ousting Houston from number one [1].
Long : "My husband and I…" Peel : "Wrong show dear, this is TOTP!"
Long : "Oh, merry Christmas! Welcome to the Christmas Day TOTP. Lots of No.1s, lots of best-sellers…" Peel : "That sort of thing anyway, this is King!"
"That's Colonel Abrams on TOTP. You ought to hear him on slow songs, viewers – wonderful. In just a moment, Midge Ure with a former No.1, but right now it's Phyllis Nelson. This is "Move Closer" – if you dare!"
"Something spiritual for you on a Christmas afternoon – that's Alison Moyet, "That Ole Devil Called Love". In just a moment or so we're going to be seeing Paul-P-P-Paul-Paul Hardcastle, but these are the Eurythmics."
"That's Baltimora with the big one for 1985!"
Peel : "Paige, Rush, Dickson – it sounds like a sordid incident in a cheap motel!" Long : "I wouldn't know about that!" Peel : "That's not what I hear, Janice!"
Tracklisting
References
Not quite Top of the Pops: Stuck at Number Two for Christmas[1]
Video
Community content is available under
CC-BY-SA
unless otherwise noted.