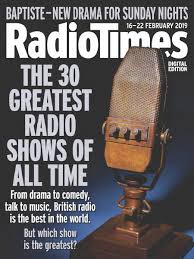 The 30 Greatest Radio Shows Of All Time is an article written in 2019 for Radio Times by Simon O'Hagan and appeared in the 16-22 February edition. It was a follow-up to a 2017 poll to find the greatest radio broadcaster of all time (in which Peel came second to Terry Wogan).
In the list, the John Peel Show came 13th, and the justification for this choice was as follows:
Only Terry Wogan kept John Peel off the top spot in 2017. Like Wogan, Peel had the gift of seemingly broadcasting not to multitudes but one-on-one, and you'd be hard put to find either a music act or music fan who doesn't declare their debt to Peel for the way he championed new music on his late-night Radio 1 show, its golden age generally reckoned to be the late 70s and early 80s. A spell as presenter of Home Truths on Radio 4 burnished his reputation further.
Other shows from the list in which JP also appeared were: Private Passions (#30); The Archers (#02); and Desert Island Discs (#01).
Available
Community content is available under
CC-BY-SA
unless otherwise noted.