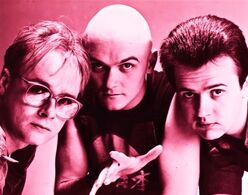 3D were an early 80's new wave/synth pop band born out of earlier incarnations of Liverpool groups such as Snapshots and Sneax. Riff and Fred both played in Snapshots. When their bass player, Ian Barry, left to join Sneax (Jon's band), one of their guitarists (Roy Campbell) moved to bass and Steve joined on keyboards. Other members were Richie Holmes (vocals & percussion) & Phil Martin on Sax. The band's name was changed to 3D A Fish In Sea taken from the title of a photograph in a magazine seen by Richie. The band made an album but it was never released, although three singles were cut from it, before the band split in the mid 80's.
Links To Peel
The band recorded three sessions for Peel's show, a record for an unsigned band. The first was broadcast during Peel's week in Liverpool and included an interview with drummer Fred Paleforth. With their third session looming, there was a rift in the band and three members left (Richie, Roy & Phil). They went on to form a new band called Box Of Toys (who did a Peel session in 1983) with drummer Andy Redhead (who joined 3D later). Riff, Fred and Steve decided to continue with the John Peel session and recruited Jon Corner (vocals) and Dave Edwards (bass) for the event.
Riff in an interview with the Medium website acknowledged Peel's support and his opinion:
"I think it's fair to say he got us a record deal. He said on-air how if he had a record label, he'd sign us up immediately. Next day we were inundated with offers." [1]
However, Peel's support for the band ended after the group released their single 'Break The Fix' in 1984. This was due to be played on Radio One's Round Table, a review show featuring guest broadcasters and musicians giving their opinion on the week's new releases. With an audience of over 10 million,  it could make or break a single. On the week 3D's new single was set to be released, Peel was one of the guest reviewers and band member John remembered the event:
"When we heard Peel was on, we thought we were made. Unfortunately, it didn't quite pan out that way. He absolutely slaughtered us. He said the record sounded like 'a poor man's ABC' and I tend to agree. We hadn't been true to ourselves." [2]
The band later split after their record company lost interest and dropped them.
Sessions
1. Recorded: 1982-03-27. Broadcast: 05 April 1982. Repeated: 21 July 1982, 29 December 1982
Houdini / Some Die For Money / Alone / The Orchard
2. Recorded: 1982-10-23. Broadcast: 09 November 1982. Repeated: 25 November 1982
Dreaming Of You / A Child's Toy / Red Wine
3. Recorded: 1983-07-30. Broadcast: 13 September 1983. Repeated: 18 October 1983, 24 November 1983
Pantau / Brave Boys' Paradise / Stay / Loveliest World
Other Shows Played
None, according to available playlists
See Also
External Links