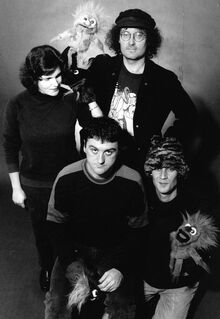 The 3Ds were an noise pop band based from Dunedin, New Zealand, together from 1988 to 1997. They recorded three albums and several EPs. The band was formed in May 1988 by Dominic Stones, Denise Roughan and David Saunders. The band's name refers to the members' names all starting with "D." In 1989, they were joined by David Mitchell, who introduced the twin-guitar attack which became the defining feature of the group. In 1992, the band played with Nirvana in New Zealand. The 3Ds also toured with Pavement in New Zealand and Australia. Following this, The 3Ds played two stadium shows supporting U2 on their Zoo TV tour in New Zealand. An associate of the band took a bottle of wine from U2's dressing room without permission, leading the concert promoter to inform The 3Ds that they would not be paid for their performance. However, U2's singer Bono was in the room at the time, and insisted that The 3Ds be paid double, and given an additional bottle of wine. The band split in 1997, but did a reunion tour between 2009 and 2010.
Links to Peel
The band were signed to Flying Nun records, a label that Peel played records quite often from and it seems he discovered the group in 1992, when they released their Fish Tails EP. In 1994, the band did a session for John Peel's show.
Sessions
1. Recorded: 1994-04-24. Broadcast: 28 May 1994
The Venus Trail / The Golden Grove / The Young & The Restless / Sing Song
Other Shows Played
1992
1994
External Links
Community content is available under
CC-BY-SA
unless otherwise noted.