4AD is a British independent record label, founded by Ivo Watts-Russell and Peter Kent in 1980. It was originally funded by, and an imprint of, Beggars Banquet. Watts-Russell invited graphic designer Vaughan Oliver and photographer Nigel Grierson to create sleeve art for the label, and as a result, 4AD acquired a visually distinctive identity. The label gained prominence in the 1980s for releasing albums from alternative rock, post-punk, gothic rock and dream pop artists, such as Bauhaus, Cocteau Twins, Modern English, Dead Can Dance, Clan of Xymox, Pixies, Throwing Muses and Watts-Russell's own musical project This Mortal Coil.
In 1987, the label scored an international hit with the dance music single "Pump Up the Volume" by the one-off project M/A/R/R/S. 4AD continued to have success in the 1990s and 2000s with releases from Breeders, Lush, Red House Painters, Camera Obscura, TV On The Radio, St. Vincent and Bon Iver.
(Read more at Wikipedia.)
Links To Peel
"Without John Peel none of us would have had a shot. He was my professor. I was kicked out of school but it didn't matter – it gave me more time to concentrate on what proved to be my education and my passion."[7](4AD co-founder Ivo Watts-Russell recalls listening to Perfumed Garden and Top Gear as a teenager)
4AD was one of Britain's key indie record labels from the turn of the 1980s,[1] releasing a string of landmark records that Peel played heavily on his shows in the Thatcher years and beyond, from notable session regulars and Festive Fifty mainstays of the era including Birthday Party, Cocteau Twins and Pixies. In 1999, the DJ included three tracks released by the label among his Peelenium selections to celebrate the previous 100 years of music.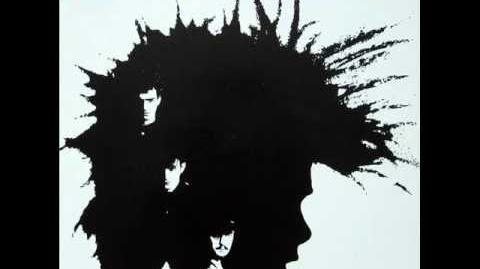 Until the mid-1990s, the label's distinctive roster reflected the personal tastes of 4AD co-founder Ivo Watts-Russell, who was namechecked in the title of a song by Cocteau Twins that reached #16 in the 1984 Festive Fifty. The label boss also put together This Mortal Coil, a loose collective featuring 4AD musicians and others who scored a #4 placing in the 1983 Festive Fifty with a cover of 'Song To The Siren', originally by 1960s Peel session artist Tim Buckley.
Far from 4AD's gothic and dream pop reputation, Watts-Russell was also responsible for the label reissuing the LP 'Le 'Mystère Des Voix Bulgares', featuring female choir music from Bulgaria and first released in 1975.[8] Helped by airtime from both Peel and Andy Kershaw, [9] the album was a surprise independent chart hit in 1986, as was its followup two years later.[10]
In 1987, 4AD released the unexpected international chart smash "Pump Up the Volume", a one-off collaboration of label artists Colourbox and A.R. Kane under the name M/A/R/R/S. Although this placed unwelcome strains on relationships, with none of the musicians recording for 4AD again, the label soon found a fresh direction with a new generation of American alternative bands including Pixies, Breeders and Throwing Muses, who were all played by Peel.
Watts-Russell eventually decamped to Los Angeles, before selling 4AD to Beggars Banquet and retiring to New Mexico in 1997. Although 4AD continued to prosper under new management, and Peel did feature occasional sessions by its newer bands, its heyday on his show had now passed.
Long after Peel's death, Bella Union label head and former Cocteau Twins bassist Simon Raymonde compiled the eighth in an online series of record boxes selected from the DJ's Record Collection.[11] Focused on the Eighties decade, Raymonde's choices included three releases on 4AD.
Sessions
List below of Peel sessions by 4AD artists includes sessions when on other labels. The 4AD roster during the 1980s also included former members of session band Wire.
Bauhaus: (2 sessions, 1980-82)
Birthday Party: (4 sessions, 1980-82)
Frank Black: (3 sessions, 1994-99)
Blonde Redhead: (1 session, 2000)
Camera Obscura: (5 sessions, 2001-04)
Cocteau Twins: (4 sessions, 1982-84)
Dead Can Dance: (2 sessions, 1983-84)
In Camera: (1 session, 1980)
Lush: (1 session, 1990)
Modern English: (2 sessions, 1980-81)
Mountain Goats: (2 sessions, 2003-04)
Pale Saints: (1 session, 1989)
Piano Magic: (1 session, 2000)
Pixies: (4 sessions, 1988-91)
Stereolab: (6 sessions, 1991-2001)
Thievery Corporation: (1 session, 1998)
Tindersticks: (3 sessions, 1993-96)
Unrest: (1 session, 1992)
Xmal Deutschland: (4 sessions, 1982-85)
Festive Fifty
According to The Festive Fifty by Mark Whitby (1st edition, 2005, pg195), 4AD had the joint third highest number of Festive Fifty entries of any label in Peel's lifetime (with 51, level with Polydor and Virgin, behind only Rough Trade and Factory), and the second highest number of separate tracks (48, behind Rough Trade).
The list below covers Festive Fifty entries on 4AD; it does not include entries by 4AD artists on other labels. Please add any missing entries.
Peelenium
Compilations
Plays by Peel of various artist (v/a) compilations released by 4AD.[2]
(12" - Presage(s))
(LP - Lonely Is An Eyesore)
See Also
Links
References
↑ Of the label's initial set of four singles, released under the subsequently changed name of Axis,[1] Peel first played 'Dark Entries' by Bauhaus on 16 January 1980.
↑ Releases under the 'Le Mystère Des Voix Bulgares' banner were listed as v/a compilations in the UK indie charts, [2] but Discogs credits them to the artist (choir) of the same name.[3] The current 4AD website lists them as by the "Bulgarian State Radio & Television Female Vocal Choir"[4], although this name was not used on the label's first releases of the albums in the 1980s.[5] [6]
Community content is available under
CC-BY-SA
unless otherwise noted.