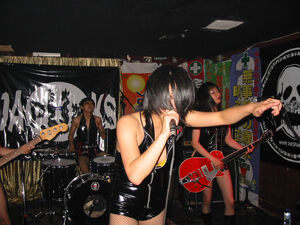 54 Nude Honeys (Japanese: フィフティフォー・ヌード・ハニーズ) was a Japanese punk rock band formed in 1992, in Tokyo, Japan. The band was primarily composed of the bass guitarist and co-founder Vivi, the guitarist and co-founder Kotome and the vocalist Yuri. The band and its membership went through a number of reconfigurations between 1992 and 2007, the year in which the band was disbanded. The group has been jokingly likened to the satirical heavy metal group Spinal Tap, due to the number of different drummers that have been involved in the band over separate line-ups. For a portion of the groups active years a second guitarist, Fumi, was added to the line-up. Since 2001 Fumi is a member of the Japanese synth-pop band Polysics. The band has also been noted for its large cult following status in underground music circles and provocative stage outfits, choosing to dress in all leather.
Links to Peel
Peel played material from the 54 Nude Honeys in 1999 on his shows. In 2002, he gave records, which included the 54 Nude Honeys, away to John Osborne, who won a competition to win 200-250 records that Peel wanted to give away, to free space in his shed. [1]
Shows Played
External Links
Community content is available under
CC-BY-SA
unless otherwise noted.