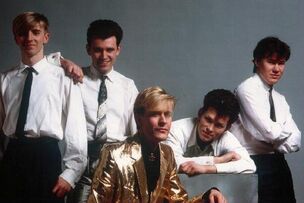 ABC are an English pop band hailing from Sheffield, founded in late 1980. Core members Steve Singleton and Mark White had been performing and recording experimental electronic music using synthesisers and drum machines since 1977 under the name of Vice Versa. After meeting vocalist Martin Fry, they invited him to join the band which then became ABC with a radical change in musical style, preferring a pop/funk approach. Fleshed out with a bass player and drummer, the group had a hit with their first single "Tears Are Not Enough" in October 1981 and went on to record their multi-million selling debut album The Lexicon Of Love, with producer Trevor Horn and orchestra arranger Anne Dudley giving the snappily dressed ABC and the album their final pop shine. (Horn and Dudley would later go on to form Art of Noise). After enjoying a string of hit singles from the album during 1982 ("Poison Arrow","The Look of Love", "All Of My Heart") the original three piece returned with a follow-up album Beauty Stab and a further change in style. This time the band preferred a more rock music based approach, which disappointed many fans however and failed to replicate the commercial success of Lexicon of Love. (Read more on Wikipedia.)
Links to Peel
Peel had regularly featured Vice Versa material on his show which would possibly have led him to play ABC's first single (swiftly followed by Vice Versa's "Science Fact" on 02 November 1981!). Their polished pop sound was evidently more suited to daytime radio and to David Jensen for whom they did record a session.
After Peel's death, three ABC albums were found among the first 100 LPs by artists beginning with A when details of the DJ's record collection were released by TheSpace and John Peel Archive websites (see Record Collection: A).
Sessions
Other Shows Played
See Also
External Links
Community content is available under
CC-BY-SA
unless otherwise noted.