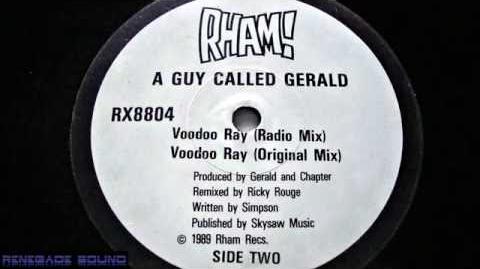 Gerald Simpson (born 16 February 1967), better known as A Guy Called Gerald, is a British DJ, record producer and musician. He was an early member of 808 State, and later achieved success as a solo artist. He is best known for his early work in the Manchester acid house scene in the late 1980s and the track 'Voodoo Ray'. His style developed during the early 1990s, and his 1995 album 'Black Secret Technology' would become a "much-touted candidate for 'best jungle album ever.'
A track Simpson started before leaving 808 State, 'Pacific State', was released and hit the charts. However, according to Simpson, they had finished and released the track without his permission. Although Simpson was credited on its first release on the album 'Quadrastate' both as a writer and co-producer, the dispute escalated as Simpson claimed to have written the entire track. The dispute was eventually settled out of court.
(Read more at Wikipedia.)
Links to Peel
Peel was an early supporter of A Guy Called Gerald, first playing debut single 'Voodoo Ray' in September 1988, many months before the record peaked at #12 in the national charts the following summer.[1] While the track is often associated with the Manchester acid house scene centered on the city's Hacienda club, the DJ was happy to note that it came out on a small label from his own native Wirral in Merseyside.
In an October 1988 NME interview on current favourite tracks, he commented :
"This is on the Rham label and basically it's another very good dance record. I like the mystery and anonymity that surrounds a lot of these records. Plus the fact that Rham are based in New Brighton. I spent a great deal of time there as a child and I think it's marvellous that there should be a record label there."[2]
Around the same time, Peel also started playing the debut LP of Gerald Simpson's former band, 808 State, including tracks featuring Simpson.
The first of three A Guy Called Gerald sessions quickly followed, produced by Dale Griffin.[1] Debut session track 'Rockin' Ricki' was later played several times as a stand-alone number, from the Strange Fruit "Manchester, So Much To Answer For" compilation, on John Peel's Classic Sessions, and on the DJ's 60th birthday six-hour Radio One special.
Peel also gave multiple plays to debut LP 'Hot Lemonade' at the start of 1989 and continued to feature occasional A Guy Called Gerald tracks in later years.
Festive Fifty Entries
Sessions
Three sessions. #1 available on The Peel Sessions, 12" EP, 1989 (Strange Fruit, SFPS071), all three sessions released on The John Peel Sessions, CD, 1999 (Strange Fruit). 'Rockin' Ricki' from #1 also available on Manchester, So Much To Answer For, v/a CD/2xLP, 1990 (Strange Fruit).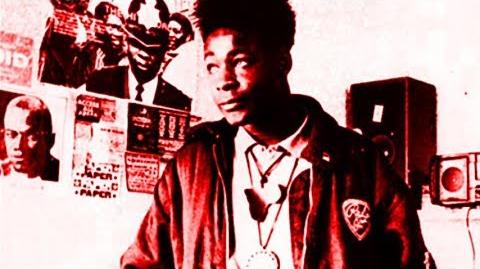 1. Recorded: 1988-10-30. First broadcast: 07 November 1988. Repeated: 14 December 1988.
Time Waits For No Man / Rockin' Ricki / Emotions Electric
2. Recorded: 1989-08-06. First broadcast: 06 September 1989. Repeated: 10 October 1989
Johnny Roadhouse / Satisfaction / Bruford
3. Recorded: 1995-06-00. First broadcast: 08 July 1995. Repeated: 26 January 1996
Amabruku / Time Labyrinth / 3 2 B One / I 1 2 4 Q
Other Shows Played
1988
1989
1990
1992
1995
1997
1999
31 August 1999: Rockin' Ricki (session) (60th birthday six-hour special)
2000
See Also
External Links
References
↑ In a note to John Walters, the producer noted technical limitations at the Hippodrome studio used for the recording and suggested "it may be a good idea to keep the heavily machine-orientated stuff to MV4 (studio 4 at Maida Vale)." (Ken Garner. The Peel Sessions, p133.)
Community content is available under
CC-BY-SA
unless otherwise noted.