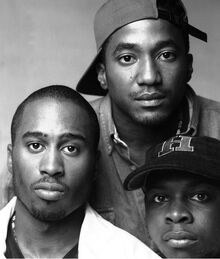 A Tribe Called Quest was an American hip hop group formed in St. Albans, Queens, New York in 1985, originally composed of rapper and main producer Q-Tip, rapper Phife Dawg, DJ and co-producer Ali Shaheed Muhammad, and rapper Jarobi White. The group is regarded as a pioneer of alternative hip hop music.
In 1991, the group released its jazz-influenced second album, The Low End Theory, regarded for helping shape alternative hip hop in the 1990s. In 1998, the group broke up shortly before releasing its fifth album, The Love Movement, but in 2006, the group's original members reunited and toured the United States. In 2016, the group released its sixth and final album, We Got It from Here... Thank You 4 Your Service, which was still incomplete when Phife Dawg died suddenly in March 2016, and was completed by the other members after his death.
A Tribe Called Quest was the most commercially successful act in the Native Tongues collective, with all six of its albums certified either gold or platinum.
Links to Peel
Peel played tracks from the ensemble between 1989 and 1991, but afterwards lost interest in the group, as well as a majority of American hip hop artists, whose lyrics he considered sexist and misogynist.
The group sampled Peel's BBC Radio One colleague's voice, Pete Tong, who appears on their Boilerhouse mix of their track, Can I Kick It?
Shows Played
1989
1990
1991
External Links
Community content is available under
CC-BY-SA
unless otherwise noted.