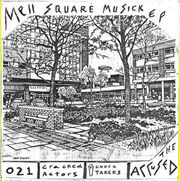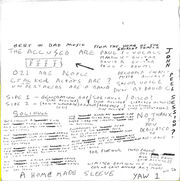 Solihull punk band from 1979. Had three songs (Solihull/Arrested/Generation Gap) released as part of the Mell Square Musick EP on No Rip Off Records in 1979. Paul Panic, the singer, ran the label as one of the first D.I.Y bedroom labels. Supported the UK Subs and the Cockney Rejects, had the record sent back by Prince Andrew, and even had a song called 'We're Crap.'
After 30 years, Mell Square Musick The Movie, a film documentary (2 x DVD) about The Accused and the Birmingham/Solihull punk scene in 1979, was released.
Paul Panic
In June 2009, the band's singer shared his memories of being played by Peel. Many thanks to Paul! Original message (here).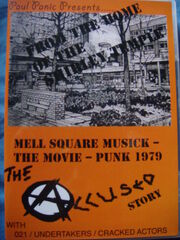 Hi everyone,
I am Paul Panic, one-time singer (shouter!!) in The Accused, from Solihull, West Midlands. In June 1979, I made a record having just left school. Having rounded up the local punk bands, I released the Mell Square Musick EP on my own DIY bedroom label, No Rip Off Records. The four bands (The Accused, 021, The Undertakers, and Cracked Actors) shared the £380 costs and had 1000 copies made on blank labels and photo-copied sleeves. John Peel played three tracks on his show on 12 September 1979, and I can remember sitting by the radio for about two weeks previous waiting to see if we would be on, and then running screaming downstairs to tell the family I was on Radio One.
Thirty years on and punk collectors now pay silly money for our little EP. And so in response to all the questions I get on the Internet, I have made a documentary 2 x DVD set that tells the whole story and tracks down some of the band members. The Accused reformed for a one-off performance and even wrote a new song. More info on the film can be found at MySpace.
Please support this site, it is fantasically rewarding. Just great hearing these shows again. Many thanks.
Paul Panic
Festive Fifty Entries
Sessions
Shows Played/Mentioned
1979
JP: I think it's magnificent that they got together and made their own record, I'm very impressed indeed.
External Links
Community content is available under
CC-BY-SA
unless otherwise noted.