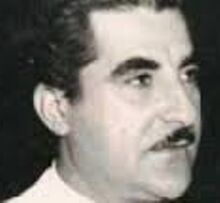 Ahmad Al Khalil (Arabic: أحمد الخليل) was an Iraqi Kurdish composer, musician and a professor at the Institute of Fine Arts in Baghdad, who was born in 1922 in Dohuk, Northern Iraq, which is now part of Iraqi Kurdistan. He started appearing on Iraqi radio from 1950 and mostly sang in Arabic, with some songs in the Kurdish language. Al Khalil collaborated with many Iraqi artists and released several records. In 1998, Al Khalil died of a heart disease in Iraq's capital city, Baghdad.
Links to Peel
In 1969, Al Khalil collaborated with another Iraqi artist, Hameed Mohammed, who may have been Zahid Mohammed, to record a Peel session. There is a possibility that Zahid preferred using Hameed as a stage name or that the PasB at the BBC Written Archives Centre wrote his name wrong.
Zahid or Hameed was an Iraqi communist, also of Kurdish origin who fled from Iraq in the early days and lived mostly in London during his exile especially in the 60's and early 70's. He released records, and did collaborate with Ahmad Al Khalil, who sang his poetry.
Al Khalil may have joined with Mohammed in London and recorded the Peel Session there. It is not currently known how Peel discovered the two men, but their appearance on the show could have been because they came to the attention of Peel's producer John Muir, who had a strong interest in Eastern music. There is a faint chance that JP may have met Mohammed especially, due to both men having left wing views, through anti-war demonstrations that took place in London.
Mohammed seemed to return to Iraq sometime in the 70's, but fled again in 1982 back to the UK, to escape from Saddam Hussein's rule. Al Khalil died in 1998 and Mohammed in 2001 with the latter buried at Highgate Cemetery in London.
Sessions
1. Recorded: 1969-02-12. Broadcast: 19 February 1969
Music From Hacha / Nasma / Halla Yum Abit / Dancing Of The North
Other Shows Played
None, according to available playlists
External Links
Community content is available under
CC-BY-SA
unless otherwise noted.