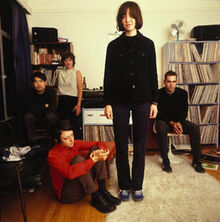 The Aislers Set is an American indie pop band that formed in San Francisco in 1997, after the breakup of chief songwriter Amy Linton's former band Henry's Dress. The Aislers Set's music is influenced by C86-style British indie pop. The band have released several singles and albums and in 2003 the band were on a hiatus until 2014, when they reunited to play four West Coast shows in celebration of their LP reissues.
Links to Peel
Peel first took interest in the band's music in 2000 and in the spring of 2001 the band set off on a three-week tour of Europe which was highlighted by an invitation to record a session for Peel's show. They recorded four tracks for the show which was aired twice by Peel. He said of the band:
"If you were in one of your difficult moods you could argue that there are lots of bands making that kind of noise particularly in the United States of America. And you'd say well, why are Aislers Set better than any of the others and I'd have to say, well I don't know they just sort of are..." [1]
After the session, he played further material from the band until they decided to go on a hiatus.
Sessions
1. Recorded: 2001-04-01. First Broadcast: 10 April 2001. Repeated: 19 July 2001
Mission Bells / Long Division / Walked In Line / The Walk
Other Shows Played
2001
2002
See Also
External Links