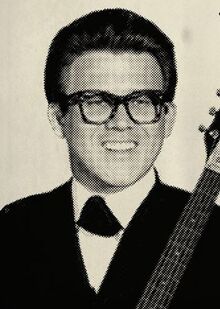 Alvin Wayne Casey (otherwise known as Al Casey) (October 26, 1936 – September 17, 2006) was an American guitarist. He was mainly noted for his work as a session musician, but also released his own records and scored three Billboard Hot 100 hits in the United States. . Casey worked with many musicians in the 50's and 60's including Duane Eddy, The Beach Boys and the Everly Brothers. Not be confused with the jazz guitarist of the same name who played with Fats Waller.
Links to Peel
Peel had a copy of Al Casey's 'Surfin' Hootenanny' single and talked on his 22 June 2004 show about Casey's impressive imitations of other guitarists on the record:
"This is Al Casey with The K-C-Ettes, recorded in 1963, and a track called 'Surfin' Hootenanny' in which he imitates a lot of other guitar players including Duane Eddy. And of course there are those who said that he actually was Duane Eddy on some of Duane's earlier records. He certainly does a very good impression of him if it's possible to do an impression of a guitar player. Take it away, Al!"
The single was probably bought in America by Peel whilst he working there and was often played on his programmes. After his death, it turned up in John Peel's Record Box of favourite singles.
Shows Played
1987
1989
1995
2004
External Links