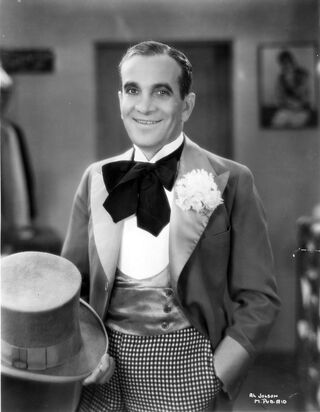 Al Jolson (born Asa Yoelson: May 26, 1886 – October 23, 1950) was an American singer, comedian, and stage and film actor. At the peak of his career, he was dubbed "The World's Greatest Entertainer." His performing style was brash and extroverted, and he popularised a large number of songs that benefited from his shamelessly sentimental, melodramatic approach. Numerous well-known singers were influenced by his music, including Bing Crosby, George Burns, Bob Dylan, Rod Stewart, David Bowie and others. Dylan once referred to him as "somebody whose life I can feel." Broadway critic Gilbert Seldes compared him to the Greek god Pan, claiming that Jolson represented "the concentration of our national health and gaiety."
In the 1920s, Jolson was America's most famous and highest-paid entertainer. Between 1911 and 1928, Jolson had nine sell-out Winter Garden shows in a row, more than 80 hit records, and 16 national and international tours.
Although best remembered today as the star of the first talking picture, The Jazz Singer (1927), he later starred in a series of successful musical films throughout the 1930s. After the attack on Pearl Harbor, he was the first star to entertain troops overseas during World War II. After a period of inactivity, his stardom returned with The Jolson Story (1946), for which Larry Parks played Jolson, with the singer dubbing for Parks. The formula was repeated in a sequel, Jolson Sings Again (1949). In 1950, he again became the first star to entertain GIs on active service in the Korean War, performing 42 shows in 16 days. He died just weeks after returning to the U.S., partly owing to the physical exertion of performing. Defense Secretary George Marshall posthumously awarded him the Medal of Merit.
According to the St. James Encyclopedia of Popular Culture, "Jolson was to jazz, blues, and ragtime what Elvis Presley was to rock 'n' roll." (Read more)
Links to Peel
Jolson featured twice in the Peelenium, the first time with a sentimental heartbreak song and the second with an up-tempo jazz number that he also performed in The Jazz Singer. John Walters recalled hearing selections from The Jolson Story played on his neighbour's Hammond organ [1]. As part of his ongoing fascination with football songs, JP featured When The Red Red Robin Goes Bob Bob Bobbing Along, which Jolson had recorded with great success in 1926. (02 November 1989) One of JP's featured artists, Philip Glass, claimed to have been related to Jolson.
Festive Fifty Entries
Sessions
Other Shows Played
External Links