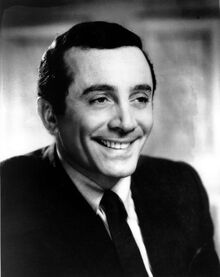 Al Martino (born Jasper Cini; October 7, 1927 – October 13, 2009) was an American singer and actor. He had his greatest success as a singer between the early 1950s and mid-1970s, being described as "one of the great Italian American pop crooners", and also became well known as an actor, particularly for his role as singer Johnny Fontane in The Godfather.
Jasper "Al" Cini was born in Philadelphia, Pennsylvania. The name Jasper was an Anglicisation of his father's name, Gasparino. His parents were immigrants from Abruzzo, Italy, who ran a construction business, and while growing up, he worked alongside his brothers as a bricklayer. He aspired to become a singer, emulating artists such as Al Jolson and Perry Como, and by the success of a family friend, Alfredo Cocozza, who had changed his name to Mario Lanza.
Links To Peel
Al Martino was the first artist to have a UK number one single in 1952 with 'Here In My Heart'. When interviewed by John Walters in 1987 on Peeling Back The Years, he reminded Peel who was the first artist to reach number 1 in the UK Singles Chart, which Peel responded by singing a verse of the song. In 2001, Peel played the track as part of his Pig's Big 78.
Shows Played
2004
See Also
External Links
Community content is available under
CC-BY-SA
unless otherwise noted.