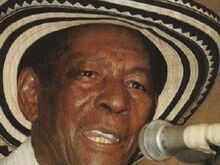 Gilberto Alejandro Durán Diaz, known to all as Alejo Durán or "El Negro Grande" (the great black Man) (February 9, 1919 – November 15, 1989) was a Colombian vallenato music traditional composer, singer and accordionist. Duran was born in El Paso, Cesar, Colombia and lived his last years in Planeta Rica. He is notorious for lyrically "self-flagellating" himself in his songs. In 1968 Duran gained notoriety for winning the first version of the "Vallenato Legend Festival" in the city of Valledupar and is often cited as one of the best Vallenato musician of all times. He died in Montería, Córdoba.
Links To Peel
Peel was given the LP from the artist by fellow radio presenter Nicky Campbell as a gift, when he went to Colombia in 1990. The LP was called Cantos Originales De Legendarios Vallenatos and was a triple album.
Shows Played
1990
External Links
Community content is available under
CC-BY-SA
unless otherwise noted.