Alexis Andrew Nicholas Koerner (19 April 1928 – 1 January 1984), known professionally as Alexis Korner, was a British blues musician and radio broadcaster, who has sometimes been referred to as "a founding father of British blues". A major influence on the sound of the British music scene in the 1960s, Korner was instrumental in the formation of several notable British bands including The Rolling Stones and Free.
Alexis Andrew Nicholas Koerner was born on 19 April 1928 in Paris, France, to an Austrian Jewish father and a mother of Greek, Turkish and Austrian descent. He spent his childhood in France, Switzerland and North Africa and arrived in London in 1940 at the start of World War II. One memory of his youth was listening to a record by black pianist Jimmy Yancey during a German air raid. Korner said, "From then on all I wanted to do was play the blues.".....In 1961, Korner and Cyril Davies formed Blues Incorporated, initially a loose-knit group of musicians with a shared love of electric blues and R&B music. The group included, at various times, Charlie Watts, Jack Bruce, Ginger Baker, Long John Baldry, Graham Bond, Danny Thompson and Dick Heckstall-Smith. It also attracted a wider crowd of mostly younger fans, some of whom occasionally performed with the group, including Mick Jagger, Keith Richards, Brian Jones, Geoff Bradford, Rod Stewart, John Mayall and Jimmy Page.
(Read more at Wikipedia)
Links to Peel
Alexis Korner rivalled John Mayall as a father figure of British blues, but was less successful commercially; the Wikipedia article on Korner suggests that this was because he did not share Mayall's enthusiasm for electric Chicago-style blues (he accused Mayall of commercialism in a piece published in Melody Maker) and was more open to folk and jazz influences. Among the jazz musicians he worked with were John McLaughlin and Lol Coxhill He frequently appeared on TV and radio during the 1960s and 1970s, but only did a single session for Top Gear and plays of of his material on Peel shows are scarce, only a couple of tracks by his Blues Incorporated band(s) showing in available playlists. His later band New Church were one of the support acts at the Rolling Stones' free concert in Hyde Park in July 1969, which Peel attended.
However, Alexis Korner did have other connections with Peel. He had played with Ken Colyer's band in the 1950s and, as mentioned above, encouraged a number of artists who later did sessions for Top Gear, reportedly recommending singer Robert Plant, who had been recording with him, to Jimmy Page when the latter was forming the band which became Led Zeppelin. His career as a broadcaster began to develop and in October 1967 he interviewed Jimi Hendrix, who was recording a session for Top Gear; his interview went out on the programme when the session was aired. As a member of the pop "big band" CCS, he recorded an instrumental version of Led Zeppelin's "Whole Lotta Love", which became the Top Of The Pops theme tune from 1970 to 1981. He also presented Peel's Sounds Of The Seventies Thursday evening shows in August and September 1973, when JP was on holiday, and eventually found a regular slot on Radio 1 as host of a Sunday night show, Alexis Korner's Blues and Soul Show, which ran from 1977 until 1981.
Festive Fifty Entries
Sessions
One session (with Nick South). No commercial release
1. Recorded: 1969-01-14. First broadcast: 02 February 1969. Repeated: None
The Clapping Song / Please Don't Say No / You Don't Know My Mind
Other Shows Played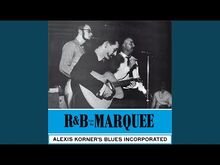 1969
11 October 1969: Gotta Move (LP - R & B From The Marquee) Ace Of Clubs ACL 1130 (credited to Alexis Korner's Blues Incorporated)
1976
13 August 1976: 'I'm Your Hoochie Coochie Man (LP-Bootleg Him!)' (RAK) (credited to Alexis Korner's Blues Incorporated)
External Links
Community content is available under
CC-BY-SA
unless otherwise noted.