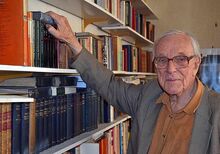 Alfred Laurence Le Quesne is a British historian who was born on November 16, 1928 in London. Son of Charles Thomas and Florence Eileen (Pearce Gould) Le Quesne, he obtained his History degree at Exeter University with a Masters at Oxford, later becoming Assistant Master at Shrewsbury School and then a university history lecturer in Australia. Le Quesne has written several books related to his subject.
Links To Peel
Peel's history teacher at Shrewsbury School was Le Quesne, who wrote in his report:
"Probably the only member of the form with much trace of imagination or literacy ability. If he could learn that he isn't one of the kings of creation, he could do very well".[1]
Michael Palin who studied at the same school as Peel, used Le Quesne as the inspiration for the famous Monty Python "The Knights Who Say Ni" sketch. Laurence Le Quesne had a habit when at Shrewsbury School of exclaiming "ni" as he scoured the library for books.
External Links
Footnotes
↑ Margrave Of The Marshes, Corgi edition, page 123