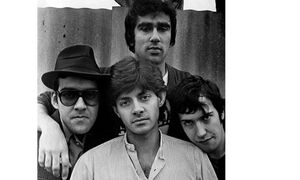 Alien Kulture
was a predominantly British Asian 
punk
band active from 1979 through 1981, founded by Ausaf (Zaf) Abbas, Azhar Rana, Pervez Bilgrami, and self-described "token white" Huw Jones. Inspired by the nascent punk scene, the Anti-Nazi League and the Rock Against Racism concert series, and wanting to express the frustrations of second-generation Asian immigrants during a period of ethnic tension and race riots in Britain, the members of the band turned to music to achieve politically what they had not been able to via protest rallies, and to draw on their Pakistani Muslim backgrounds to promote an Asian presence in popular culture. They took their name as a response to then newly elected Prime Minister
Margaret Thatcher
's stated fears of being "swamped by people with a different culture".
Links To Peel
In an Guardian article [1] published on 10th January 2010, Ausaf (Zaf) Abbas mentioned that the band's manager sent a tape of their "Asian Youth" single (their only single to date) to Peel, who played it on his BBC Radio One show in 1980. In the same article, Azhar Rana added:
"I remember listening to the radio and taping John Peel when he said that he had been weighing up whether to play our single and he did not want to play it just because we were Asian but that he was going to play it because he actually liked it. The most amazing part was that Peel had just played David Bowie. We were following David Bowie!"
Despite Peel's support, Alien Kulture failed to interest the mainstream music press and the band slowly disappeared after 1981. On 08 February 1982 Peel read out a postcard from India sent by Zaf of Alien Kulture who was sight seeing, which he mentioned the Taj Mahal as a perfection in a building.
Shows Played
1980
External Links
Community content is available under
CC-BY-SA
unless otherwise noted.