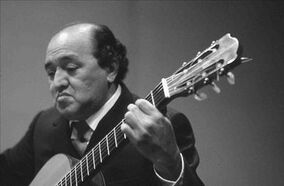 Alirio Díaz (born November 12, 1923) is a Venezuelan classical guitarist. The eighth of eleven children, Díaz was born in Caserio La Candelaria, a small village near Carora in western Venezuela. From childhood he showed a great interest in music. His uncle was his first guitar teacher. At age 16 he ran away from home to Carora, where he sought better schooling. He later went to Trujillo, in the Venezuelan Andes, and studied saxophone and clarinet under Laudelino Mejías while working as a typesetter in a newspaper. He also studied English and typewriting before going to Caracas in 1945 to study the guitar at the Escuela Superior de Musica José Ángel Lamas under Raul Borges.
In 1950, the Venezuelan Government awarded him a scholarship to continue his guitar studies in Madrid under Regino Sainz de la Maza. That same year he performed his first guitar concert in Europe. In 1951 he went to Accademia Musicale Chigiana of Siena (Italy), seeking to study with Andrés Segovia. There he impressed Segovia greatly with his flawless technique and extensive repertoire. Three years later, he progressed to become the assistant and substitute to Segovia, and started performing in some of the most prestigious concert halls of Europe.
Alirio Díaz has performed all over the world combining baroque music with the works of modern Latin American composers, such as Lauro, Sojo and Barrios Mangoré. He currently teaches in Rome and performs in concert with his son Senio. During the European winter, he usually returns to Venezuela to his native town, La Candelaria. For several years, a guitar contest named Concurso Internacional de Guitarra Alirio Díaz has been held in his honor in Caracas and other cities in Venezuela (the April 2006 contest was held in Carora), where he often makes appearances.
Links To Peel
Peel was a fan of the artist in the late 60's and described his music as a great joy in his International Times column of 23rd August 1968:
"Alirio Diaz on Vanguard VSL11010 plays twenty predominantly Spanish pieces in a manner likely to cause you great joy".
In addition to tracks by the artist featured on 1968 Night Ride shows, Alirio Diaz's recording of 'Asturias', composed by Isaac Albeniz, was played by JP on an episode of Peel's Pleasures in 1982 The piece's opening section was adapted by The Doors' guitarist Robby Krieger for "Spanish Caravan", from their third album Waiting For The Sun, which was enthusiastically promoted by Peel on Top Gear in the summer of 1968.
Shows Played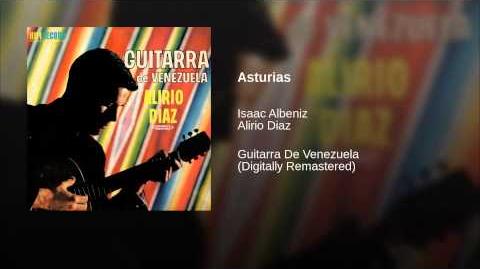 1968
1982
External Links
Community content is available under
CC-BY-SA
unless otherwise noted.