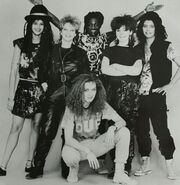 Amazulu
were a British ska/pop band from the 1980s. Composed of five women and one man, they achieved success in the UK charts with four top twenty hits – the biggest of these being "Too Good to Be Forgotten" in 1986. The name Amazulu is taken from the Zulu language word for the Zulu people. The band was started by Sharon Bailey and Rose Minor, who was the original lead singer. Bailey was also the original manager of the band. All members were female, except for the drummer, Nardo Bailey. Falcon Stuart, the former manager of X-Ray Spex and Adam and the Ants, discovered the act and helped promote their first single, "Cairo" to modest success in the UK, which included airplay from BBC Radio 1's John Peel.
Links To Peel
Peel described Amazulu's first session poached from Kid Jensen on his 07 July 1982 show as "one of those session where you go quite weak, really pleased that I got this out first."
The group's first session included a cover of Peel's favourite football team, Liverpool F.C. anthem, You'll Never Walk Alone.
Sessions
1. Recorded: 1982-06-05. First broadcast: 07 July 1982. Repeated: 29 July 1982, 27 October 1982, 28 December 1982
Fussin' n Fightin' / Nuya Deya / You'll Never Walk Alone / Cairo / Amazulu
2. Recorded: 1983-08-01. First broadcast: 17 January 1983.
Cairo / Tonto / Brixton / Smiley Stylee
Other Shows Played
External Links
Community content is available under
CC-BY-SA
unless otherwise noted.