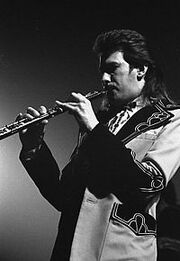 Andrew "Andy" Mackay (born 23 July 1946) is an English multi-instrumentalist, best known as a founding member (playing oboe and saxophone) of the art-rock group Roxy Music. In addition, he has taught music and provided scores for television, while his CV as a session musician encompasses some of the most noteworthy and recognisable names in the music business. (Read more at Wikipedia)
Links To Peel
Peel was initially a Roxy Music fan, although his interest in the group mellowed later on. He still to seemed respect them after that, however, unlike some other acts that he initially championed, and continued to play their music from time to time. On 11 August 1976 Peel broadcast a Roxy Music retrospective, during which he stated that "had Andy Mackay been born 50 years earlier, the whole course of European history in this century might have been might have been quite different". McKay also recorded a session with his own band and Peel liked his solo albums.
Sessions
One session. Might have been released on the 1999 CD version of his solo album "In Search of Eddie Riff", where the same tracks are listed as "rehearsals for a BBC In Concert show"
1. Recorded: 1974-06-24. First broadcast: 16 July 1974
The Hour Before Dawn / Ride of the Valkyries / Walking the Whippet
Mackay did also five sessions as a member of Roxy Music.
Other Shows Played
(Please add more information if known)
See Also
External Links
Community content is available under
CC-BY-SA
unless otherwise noted.