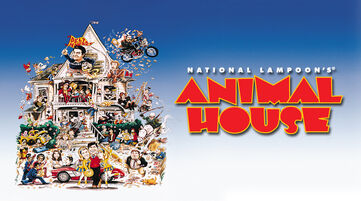 National Lampoon's Animal House is a 1978 American comedy film directed by John Landis. The film was a direct spinoff from National Lampoon magazine. It is about a misfit group of fraternity members who challenge the dean of Faber College.
The screenplay was adapted by Douglas Kenney, Chris Miller, and Harold Ramis from stories written by Miller and published in National Lampoon magazine. The stories were based on Miller's experiences in the Alpha Delta Phi fraternity at Dartmouth College. Other influences on the film came from Ramis's experiences in the Zeta Beta Tau fraternity at Washington University in St. Louis, and producer Ivan Reitman's experiences at Delta Upsilon at McMaster University in Hamilton, Ontario.
Links To Peel
On his Peel 010 (BFBS) show broadcast in September 1985, Peel claimed that Animal House was one of his favourite movies ever:
"Even our Charles, it turns out, has never seen The Blues Brothers, and I recommend that he and everybody else goes to see it. The second best film ever made, I suppose, after Animal House. I know most people prefer to go and see Polish film festivals with subtitles in Korean or something that's really difficult, but not me. I just like a good yarn, frankly."
External Links
Community content is available under
CC-BY-SA
unless otherwise noted.