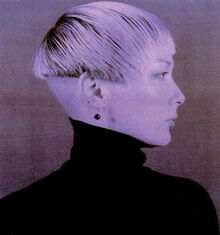 Anna Domino (born 1955 as Anna Virginia Taylor) is an American indie rock artist based mainly in Europe who released several albums under that moniker, notably for Les Disques du Crepuscule and Factory Records. Notable performers Domino has collaborated with include The The, Blaine L. Reininger and Virginia Astley. She is also one half of the duo Snakefarm. Additionally, she sang lead vocals on the song "Here In My Heart" by The 6ths on their album Wasps' Nests. Her stage name is a play on the term Anno Domini. Domino was born in an American military hospital in Tokyo, Japan in 1955. Her father, James J. Taylor, was a private in the U.S. army translating for Voice of America, stationed in Yokohama, who subsequently held numerous jobs before becoming a videographer in Washington, D.C.. Her mother, Mimi Cazort, was curator emerita for the National Gallery of Canada. Her brother, Alan Taylor, is a successful film and television director.
Links to Peel
Peel played tracks from Domino in the mid-80's, whilst she was on the Les Disques du Crepuscule label, which JP would regularly play from. He mentioned on his 26 March 1986 show that last night, he had a meal with the singer at an Italian restaurant. After 1986, it seems Peel rarely played any material from the artist.
Shows Played
1986
External Links
Community content is available under
CC-BY-SA
unless otherwise noted.