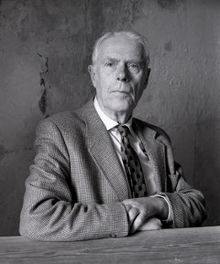 Anthony Dymoke Powell
 CH CBE (/ˈpoʊəl/ 
POH-əl
;)
]
 21 December 1905 – 28 March 2000) was an English novelist best known for his twelve-volume work 
A Dance to the Music of Time
, published between 1951 and 1975. Powell's major work has remained in print continuously and has been the subject of TV and radio dramatisations. In 2008, 
The Times
 newspaper named Powell among their list of "The 50 greatest British writers since 1945".
Powell was born in Westminster, England, to Philip Lionel William Powell and Maud Mary Wells-Dymoke. His father was an officer in the Welsh Regiment. His mother came from a land-owning family in Lincolnshire. Because of his father's career and World War I, the family moved several times, and mother and son sometimes lived apart from Powell's father. Powell attended Gibbs's pre-prep day-school for a brief time. He was then sent to New Beacon School near Sevenoaks, which was popular with military families. Early in 1919, Powell passed the Common Entrance Examination for Eton where he started that autumn ... (Read more at Wikipedia.)
Links to Peel
(JP: Well, I was just about to show producer Charles Foster something that he hadn't seen before, which was a letter from Anthony Powell who, as I'm sure you don't need to be told, is the author of Dance To The Music Of Time and a great deal besides, and one of Britain's premier literary figures, and of course, Charles hadn't heard of him. It's rather frustrating when you say, "I've got a postcard from Picasso," and he said, "Didn't he play libero for Real Madrid in the fifties?", and that kind of stuff. Doesn't impress him at all.) (10 February 1990 (BFBS))
When Peel appeared on Desert Island Discs in January 1990, he named the 12-volume A Dance To The Music Of Time by Anthony Powell as his book choice[1]. As he told Sue Lawley:
Well, I wish I had more time for reading, I like reading and I'm always appalled by my own ignorance when I read about English literature, if I won the football pools I should like to spend the rest of my life just reading I think. Dance to the Music of Time would do very nicely because it's so long and my memory is so poor that by the time I got to the end of it I could start again at the beginning and it would be as a new book to me.[2]
Reportedly, Powell was gratified by this and wrote a letter of thanks to Peel[3], perhaps the one mentioned above - although in Powell's Journals 1990-92 he writes of having been told by a friend of Peel's choice of A Dance... among his Desert Island selection, on 21 May 1990.[4]
How Peel became aware of A Dance To The Music Of Time is not known; the 12 volumes in the series were published between 1951 and 1975 and were adapted as a 26-part radio drama series for Radio 4 between 1978 and 1981, so Peel may have heard the radio version before discovering the books. Although admirers of A Dance To The Music Of Time sometimes rank it alongside other long and complex epics of twentieth-century modernist literature such as Marcel Proust's In Search of Lost Time (Remembrance of Things Past) or Robert Musil's The Man WIthout Qualities, others value the novels for their vivid, sometimes comic portrayal of upper-middle-class English life from the 1920s to the 1970s, featuring a wide range of characters, most of them with privileged backgrounds and mixing in the same social circles. This aspect was brought out well in the radio adaptation, and it was sometimes reminiscent of Peel's own early life and the stories he would tell about the foibles of his parents.
Many of the characters follow the typical mid-twentieth-century upper-class career path which Peel rejected; public school, then university (Oxbridge), jobs in the City, business or the Civil Service, or careers in the armed forces. Some choose a bohemian life in literature or the arts, or have ideological leanings to left or right, leading to careers in politics. Other characters recall the youthful Peel, unsure what they want to do in life, and living hedonistically, relying on their charm, their wits or their relatives to get by. Like many of Powell's characters in the earlier volumes of the series, Peel's father in his youth visited the exclusive and sometimes "louche"London night-clubs of the 1930s, before fighting in World War Two (as do many of the characters in A Dance...); his mother, like some of Powell's main female characters, was from a "good family" and "never needed to work"[5]. From what Peel tells us in Margrave of the Marshes, his family did move in the circles of affluent, status-conscious county families, in which much of A Dance.... takes place. Peel loathed their social scene, but never broke off relations with his family, even if he did distance himself from his parents' values. And no doubt he encountered many people of similar background during his BBC career[2]. Not to mention those "ex-public school layabouts" (George Melly, Revolt Into Style), who had made their mark in the pop and fashion scenes of 1960s London and were seldom among the DJ's favourite people.[3].
Anthony Powell was known to be a High Tory, and wrote book reviews for the traditionally Conservative newspaper, the Daily Telegraph. Many of his literary friends and supporters were from the political Right (like the poet Roy Fuller, who once appeared on Night Ride), but he also had left-wing adimirers, such as Tariq Ali[6] and Christopher Hitchens[7], who didn't allow political differences to spoil their appreciation of Powell's detailed literary portrayal of his own old-fashioned, gentlemanly and at times somewhat dotty world. It is a very different world from that of the Liverpool poets or John Cooper Clarke, but it was one with which Peel was familiar from his youth and family background, and that goes some way to explain why he chose Anthony Powell's novel series for Desert Island Discs. No doubt he also appreciated Powell's gift for comedy, and he may well have sympathised with Powell's narrator Nick Jenkins, like Peel himself a self-effacing character with a strong sense of duty and a desire to "do the right thing". What is more, Powell may have influenced Peel's own style when he began to write his memoirs; it's easy to imagine how, if Peel had been granted more time to work on his autobiography, it too might well have run to several volumes.
References
↑ The series was also chosen by Desert Island Discs guests Jilly Cooper (in 1975),Joanna Lumley (in 1987) and Ian Rankin (in 2006).
↑ A hippie cult whose leader has a background in occultism appears in the final novel of the series, Hearing Secret Harmonies, which is set in the late 1960s and early 1970s, but the main characters of A Dance.... belong to an earlier generation. However, the title and structure of the series "suggest there is something mystical behind the surface of often comic events" (Robert Hewison, In Anger: Culture In The Cold War, 1945-1960, London 1988, p.89)
External Links
Community content is available under
CC-BY-SA
unless otherwise noted.