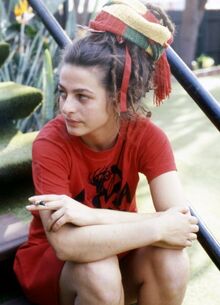 Ariane Daniela Forster (17 January 1962 – 20 October 2010), known by her stage name Ari Up, was a German-born vocalist best known as a member of the English punk rock band The Slits. In 1976, at the age of 14, Ari formed The Slits with drummer Palmolive. Within a short time, guitarist Viv Albertine joined the group and found herself deeply impressed by the young singer. Ari Up's love of reggae led The Slits into a "jungly" dub style.
After The Slits disbanded in 1981, Ari moved with her husband and twin children to jungle regions of Indonesia and Belize and lived among indigenous people in those areas. Later, they moved to Jamaica, eventually settling in Kingston. She continued to make music, first with the New Age Steppers, then as a solo artist, using the stage names Baby Ari, Baby Whitey, Madussa, and Ari Up. Her first full-length solo album, Dread More Dan Dead, was released in 2005.
Links To Peel
Peel was a fan of the Slits and regarded one of their sessions as the best he's heard. On his 13 September 1990, Peel was curious to know what happened to Ari Up until he read a letter from a listener who mentioned that she was making some reggae dancehall records under the name of Baby Whitey. The listener also sent him Baby Whitey's 2nd single which Peel played 'Woman Wheh Yu Pride'. After the track was played Peel appealed to listeners to send him Baby Whitey's first single.
Shows Played
1990
13 September 1990: Woman Wheh Yu Pride (7") Jungle Royalty (under the name of Baby Whitey)
External Links
Community content is available under
CC-BY-SA
unless otherwise noted.