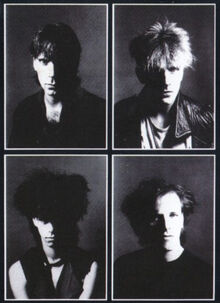 Artery are a British post-punk band from Sheffield, that was founded in 1978. They were originally known confusingly as just The. After several changes in the line-up and four albums they split up in 1985. They reformed in 2007 after being invited by Jarvis Cocker, singer of Pulp to perform at the Meltdown Festival.
Artery evolved from earlier punk band named 'The' in 1978, with an original lineup of Mark Gouldthorpe (guitar), Toyce Ashley (vocals, guitar), Neil McKenzie (bass) and Garry Wilson (drums). After a self-financed single in 1979, the band released a second in 1980 on the Aardvark label, after which Mick Fidler (vocals, guitar, saxophone) was added. Two further singles followed in 1981, before Ashley left, with Gouldthorpe taking over on vocals and Simon Hinkler (formerly of TV Product) joining on keyboards and guitar.
(Read more on Wikipedia.)
Links to Peel
Artery received strong support from John Peel, recording their first session for his BBC Radio 1 show in July 1981, a second early the following year and entering the 1982 Festive Fifty. At the end of the century, the DJ included their track 'Into The Garden' in his 1982 Peelenium. In the 2001 documentary Made In Sheffield: The Birth Of Electronic Pop, Peel named Artery as his favourite band from an exciting era for music in their home city.
In an interview with God Is In The TV fanzine in 2011, the band looked back at recording sessions for John Peel in the 80's and having 'Into the Garden' in the Festive Fifty top ten of 1982:
"It was not only an honour but a pleasure to be recognised as a creative force by such a magnificent avant-garde representative of new work as John Peel. This gave us the opportunity not only to be heard but also have the facility of the recordings to put out our first album, Oceans." [1]
In the same interview, they were also asked how the world of music had changed for them.
"Massively but in a lot of ways it's much easier to promote a band like us. In the old days, we had John Peel and the three music weeklies. We were fortunate to have the support of John Peel. The power of the internet is immense though and definitely something we plan to use to our advantage!" [2]
Festive Fifty Entries
Sessions
1. Recorded: 1981-07-20. Broadcast: 28 July 1981. Repeated: 18 August 1981
The Clown / Into The Garden / Potential Silence / Afterwards
2. Recorded: 1982-01-30. Broadcast: 15 February 1982. Repeated: 02 March 1982
The Ghost Of A Small Tour Boat Captain / Louise / The Slide / The Sailor Situation
Other Shows Played
1979
1980
1981
1982
1983
1985
1986
07 June 1986 (BFBS)

: 'The Death Of Peter X (12"-The Alabama Song)' (Red Flame)
1988
23 July 1988 (BFBS)

: 'The Death Of Peter X (12"-The Alabama Song)' (Red Flame)
1990
1991
31 May 1991 (BFBS)

: The Clown
1993
1997
1998
1999
2003
External Links