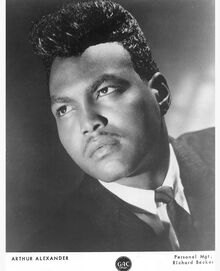 Arthur Alexander (May 10, 1940 – June 9, 1993) was an American Country Soul songwriter and singer. Jason Ankeny, music critic for AllMusic, said Alexander was a "country-soul pioneer" and that, though largely unknown, "his music is the stuff of genius, a poignant and deeply intimate body of work on par with the best of his contemporaries." Alexander's songs were covered by such stars as the Beatles, the Rolling Stones, Bob Dylan, Gerry and the Pacemakers, Otis Redding, Tina Turner and Jerry Lee Lewis.
Alexander was born in Sheffield, Alabama, United States...(he) recorded his first single, "Sally Sue Brown" which was released in 1960 ...A year later, Alexander cut "You Better Move On" at a former tobacco warehouse-turned-recording studio in Muscle Shoals. Released on Nashville's Dot Records, the song became a soul/R&B chart hit, and laid the foundation for the modern recording studio FAME. "You Better Move On" is perhaps Alexander's best-known song, covered by the Rolling Stones, the Hollies, George Jones & Johnny Paycheck, Gene Clark (from The Byrds) and MInk DeVille. "Anna (Go to Him)", a U.S. R&B Top Ten Hit, was covered by the Beatles, Roger McGuinn (from The Byrds) and Humble Pie. The Beatles also did live recordings of "Soldier of Love", which was also performed by Marshall Crenshaw and Pearl Jam, "A Shot of Rhythm and Blues", and "Where Have You Been" recorded live at the Star-Club in Hamburg, 1962. "Set Me Free" (covered by Esther Phillips and Joe Tex) were also major hits and established Alexander as a pioneering arranger of others' tunes, as well as an established songwriter in his own right.
(Read more at Wikipedia.)
Links to Peel
Arthur Alexander's records began to appear in Peel's playlists in 1972, when Warner Brothers relaunched the singer's career by issuing a new LP by him. Although the LP and subsequent records by Alexander were only moderately successful, and the singer left the music business for a time (according to Wikipedia, he became a bus driver), the album did spark an interest in his 1960s work. Peel too tended to prefer Arthur Alexander's early records, which appeared in his playlists periodically until the 2000s.
Living in the USA in the 1960s, Peel would have been aware of Arthur Alexander's songs, not just the cover versions by the Rolling Stones (their version of his "You Better Move On" was the highlight of their first EP) and the Beatles, which made his name in the UK, but the singer's original versions, which charted in the USA but were only known to soul fans in Britain. But when Peel looked back to these tracks, personal memories also played a role. As he recounted on the show of 09 December 1998, a girlfriend he was keen on at the time, who worked as an air hostess for Braniff Airlines, gave him a copy of an Arthur Alexander single: "the only thing she ever gave me was a copy of a record by Arthur Alexander called, 'You Better Move On', which seemed to me to be a message and quite clearly was a message...." It later appeared in the Peelenium for 1961.
Festive Fifty Entries
Sessions
Other Shows Played
14 March 1972: Go On Home Girl (LP - Arthur Alexander) Warner Bros.
29 February 1972: It Hurts To Want It So Bad (LP – Arthur Alexander) Warner Bros
30 August 1979: You Better Move On (London) (40th birthday records)
1980s
1990s
2000s
Other
See Also
External Links
Community content is available under
CC-BY-SA
unless otherwise noted.