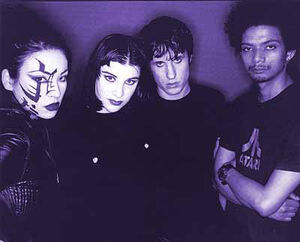 Atari Teenage Riot (abbreviated ATR) is a German band formed in Berlin in 1992. The name was taken from a Portuguese Joe song entitled "Teenage Riot" from the album Teen-age Riot, with the word 'Atari' added as an Atari ST computer was used to create compositions. Highly political, they fused anarchist, anti-fascist and anti-Nazi views with punk vocals and the newly emerging techno sound called digital hardcore, which is a term band member Alec Empire used as the name of his record label.
The group was founded as an attack on the Neo-Nazi subculture by fusing hardcore punk views with German techno; it consisted of originally three Berliners—Alec Empire, Hanin Elias and MC Carl Crack. Later on joined by Nic Endo in 1996. The band split in 2000, with Hanin Elias persusing a full time solo career and MC Carl Crack later dying of a drug overdose in 2001. Atari Teenage Riot later reunited in 2010 with Alec Empire and Nic Endo joining with CX KiDTRONiK and Rowdy Superstar.
Links to Peel
Peel seemed to have discovered Atari Teenage Riot in 1994 and would play their material on his shows, including inviting the band to perform at the Queen Elizabeth Hall in 1999, alongside other artists on their Digital Hardcore Recordings label.
Founder member Alec Empire in the Factmag website praised Britain and John Peel for giving the band their first major break:
"Britain always played an important role in Atari Teenage Riot's history. We had our first record deal there and the support from John Peel gave us our first major break. We started our label DHR there as Germany was dead to new music then."[1]
As well as the work of ATR and related solo releases, Peel was also a keen supporter of other artists on the DHR label, including Sonic Subjunkies, Christoph De Babalon and Lolita Storm.
Festive Fifty Entries
Live
Recorded live at Queen Elizabeth Hall on 1999-03-19. Broadcast: 24 March 1999
Sick To Death
Destroy 2000 Years Of Culture
Deutschland Has Gotta Die
Not Your Business
Atari Teenage Riot II
Too Dead For Me
The Western Decay
Ghost Chase
Revolution Action
No Remorse
Start The Riot
Recorded live at the Reading Festival on 1999-08-27. Broadcast: 15 September 1999
Revolution Action
unknown (as with other tracks)
Other Shows Played
14 October 1994: Raver Bashing (split 7" with Alec Empire & Lucy Devils - Raver Bashing / Together For Never) Riot Beats
22 October 1994 (BFBS): Raver Bashing (split 7" with Alec Empire & Lucy Devils - Raver Bashing / Together For Never) Riot Beats
1997
1999
2004
External Links
Community content is available under
CC-BY-SA
unless otherwise noted.