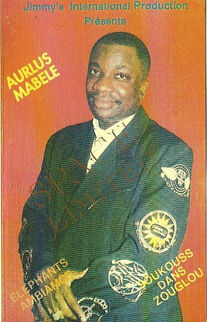 Aurlus Mabélé (26 October 1953 – 19 March 2020) was a Congolese singer and composer. He was commonly referred to as the "King of Soukous". He was born in Brazzaville, his real name was Aurélien Miatsonama. In 1974, he created the band Les Ndimbola Lokole with Jean Baron, Pedro Wapechkado and Mav Cacharel. The group recorded some of the hottest hits that moved the African continent in the 1970s, such as Embargo, Zebola and Waka Waka. Later, he moved to Paris where he founded another band, Loketo, meaning "hips" in Lingala - the language of most soukous songs, which is widely spoken in western Democratic Republic Of Congo and Congo-Brazzaville. During the coronavirus outbreak in France, he contracted Novel Coronavirus and on 19 March 2020, died from the infection in Paris.
Links to Peel
Peel seemed to start playing Aurlus Mabele's music in the late 80's and would continue play his soukous music into the early 2000's. He also played Loketo's music, a supergroup consisting of Aurlus and amongst others Diblo Dibala and Remy Salomon.
Shows Played
Aurlus Mabele
Loketo
External Links
Community content is available under
CC-BY-SA
unless otherwise noted.