(This page is about the Dutch band. For the American band of the same name, see Avengers).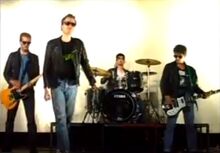 The Avengers was a Dutch garage/punk rock band formed in the mid 80's in Utrecht, Netherlands and consisting of Jeroen Vedder, Jerry Goossens, Michel van der Woude and Max Boshart. The group produced three singles throughout their time, but no albums. It is not known when they split up.
Links to Peel
Peel played a track from the group on a compilation album called Let's Have A Picnic And Barbecue Some Corrupt Not Self-Programming Dee-Jays in 1990. There's no evidence he played any further tracks from the group on his shows.
Shows Played
1990
20 January 1990 (BFBS): 'Do What You Gotta Do (2x Compilation LP-Let's Have A Picnic And Barbecue Some Corrupt Not Self-Programming Dee-Jays)' (Noet Lachten)
External Links