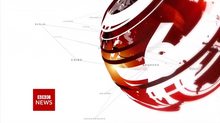 The BBC News at Six is the evening news programme bulletin from the BBC. Produced by BBC News, the programme is broadcast on BBC One and the BBC News channel on weekdays at 6:00pm. For a long period the News at Six was the most watched news programme in the UK but since 2006 it has been overtaken by the BBC News At Ten. On average it is watched by four million viewers.
The programme launched on 3 September 1984, replacing the early evening news magazine Sixty Minutes and was originally presented by Sue Lawley and Nicholas Witchell. Both presenters have since moved on to other positions within BBC News and the BBC itself. Jeremy Paxman, who went on to present Newsnight in 1989, was relief newsreader from 10 September. Andrew Harvey, Philip Hayton, and Frances Coverdale were also regular relief presenters in the early years.
Links to Peel
On 26th October 2004, BBC News at Six reported on Peel's death and featured Jarvis Cocker of Pulp, Michael Grade (BBC Chairman) and Helen Boaden (Former Controller of BBC Radio 4). At the end of the report, Andy Kershaw was interviewed about Peel.
External Links
Community content is available under
CC-BY-SA
unless otherwise noted.