"It does put a bit of a spring into your step, you know, to know that they're out there somewhere." (28 August 1992)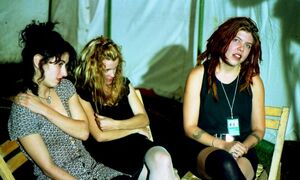 Babes in Toyland
were an American alternative rock band formed in Minneapolis, Minnesota in 1987 by Oregon native Kat Bjelland (lead vocals and guitar), with Lori Barbero (drums) and Michelle Leon (bass), who was replaced by Maureen Herman in 1992.
Courtney Love
— a close friend and former bandmate of Bjelland when the two lived in Portland and San Francisco — had a very brief stint in the band in 1987 as a bass player, before being kicked out and forming
Hole
in 1989. Between 1989 and 1995, Babes in Toyland released three studio albums — Spanking Machine (1989), the commercially successful Fontanelle (1992), and Nemesisters (1995) — before becoming inactive in 1997 and eventually disbanding in 2001 … (
read more at Wikipedia
)
Links To Peel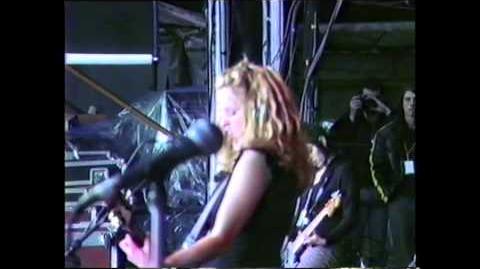 Peel was a huge fan of Babes In Toyland and first played their 'Dust Cake Boy' single on his show in 1989. In October 1990, he saw the group perform at a gig above a pub in Bedford, an event he later described as one of his all-time favourite gigs.[1] On 22 December 1990, he told listeners that the band's 'Spanking Machine' album was his favourite LP of the year. At the end of the century, he chose 'House' for the Peelenium 1990.
Such was his veneration of the group that he claimed, "If either of my daughters was in a band like that, I'd be well proud of it." [2] When he discovered that one of their tracks was featured on a limited edition double LP version of 'Every Band Has A Shonen Knife Who Loves Them', he wrote a begging letter to the band: Barbero gifted him her own copy as a result.[3]
When details of Peel's record collection were first released from 2012, five albums by Babes In Toyland were among the first 100 LPs by artists beginning with the letter B (see Record Collection: B). The band were also the subject of a short video, B Is For Babes In Toyland, released by the JohnPeelArchive and TheSpace websites.
Festive Fifty Entries
Handsome & Gretel #18
Catatonic #30
Laugh My Head Off #31
Primus #39
Ripe #42
Bruise Violet FF#9
Handsome And Gretel #22
Peelenium
Sessions
Five sessions. Official releases:
- The BBC John Peel Sessions 1990-92 (Cherry Red, CD, 2001).
- The Peel Sessions (10" / CD, Strange Fruit / Dutch East India Trading, 1992).
- 'Ripe' on Various Artists: New Season: The Peel Sessions (Strange Fruit, CD, 1991).
- 'Catatonic' on Various Artists: Radio Daze - The John Peel Sessions (Vox magazine, cassette, 1992).
1. Recorded: 1990-09-09. First broadcast: 29 September 1990. Repeated: 09 December 1990, 30 December 1990.
Catatonic / Ripe / Primus / Spit To See The Shine
2. Recorded: 1991-06-11. First broadcast: 30 June 1991. Repeated: 06 October 1991
Pearl / Dogg / Laugh My Head Off / Mad Pilot
3. Recorded: 1991-08-18. First broadcast: 22 December 1991. Repeated: ?
Handsome And Gretel / Blood / Mother / Dirty
4. Recorded: 1992-07-11. First broadcast: 25 July 1992. Repeated: 12 September 1992, 01 January 1993.
Jungle Train / Right Now / Sometimes / Magic Flute
5. Recorded: 1995-05-07. First broadcast: 16 June 1995. Repeated: 27 August 1995
The Girl Can't Help It / Cauter Eyes / Deep Song / Oh Yeah
Live
Oh Yeah
Ariel
Memory
Sweet 69
We Are Family
Other Shows Played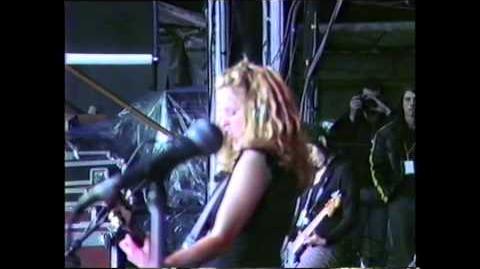 (The list below was compiled only from the database of this site and
Lorcan's Tracklistings Archive
and is certainly incomplete. Please add more information if known.)
1989
1990
1991
1992
Bruise Violet (LP: Fontanelle) (Reprise)
Won't Tell (LP: Fontanelle) (Reprise)
Gone (LP: Fontanelle) (Reprise)
Magic Flute (LP: Fontanelle) (Reprise)
1993
1994
1995
1996
1997
1999
28 December 1999: House (7") Sub Pop (Peelenium 1990) (John proclaims Babes In Toyland's gig in a room above a pub in Bedford to be one of the all-time greats.)
Post-Peel
Other
Watching Girl (2xLP-Every Band Has A Shonen Knife Who Loves Them) Giant
See Also
External Links
Community content is available under
CC-BY-SA
unless otherwise noted.