(This page concerns the hard rock band. For the Drum And Bass act of the same name, see Bad Company(2)).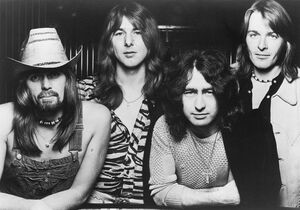 Bad Company is an English hard rock supergroup formed in Westminster, London, in 1973 by two former Free band members—singer Paul Rodgers and drummer Simon Kirke— as well as Mott The Hoople guitarist Mick Ralphs and King Crimson bassist Boz Burrell. Peter Grant, who managed the rock band Led Zeppelin, also managed Bad Company until 1982. Bad Company enjoyed great success throughout the 1970s. Their first three albums, Bad Company (1974), Straight Shooter (1975), and Run With the Pack (1976), reached the top five in the album charts in both the UK and US.
Links To Peel
Peel followed the band's formation after the singer's previous group, Free, disbanded in 1973, which was one of the groups that he would often play on his shows. He continued playing some of Bad Company's songs on his programmes, but by the time punk arrived and the end of the 70's occurred, Peel rarely played any of the band's material.
Bad Company also got played by Peel in the 00's, but this time was a Drum And Bass ensemble unconnected to the hard rock band of the same name.
After Peel's death, it was discovered that he had six albums of Bad Company from the 70's in his Record Collection: B.
Shows Played
1975
1979
See Also
External Links