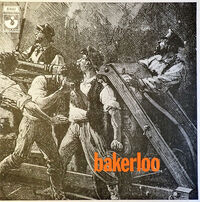 Bakerloo (previously The Bakerloo Blues Line) were an English heavy blues-rock trio, established by Staffordshire guitarist David "Clem" Clempson, Terry Poole and others in the late 1960s, at the high point of the influence of The Jimi Hendrix Experience and Cream. Although the group was prominent only for around a year (1968–9) and released only one album, it played an important part in the history of the genre, especially in view of its members' subsequent involvement with Colosseum, Humble Pie, May Blitz, Graham Bond, Vinegar Joe, Judas Priest and Uriah Heep.
(Read more at Wikipedia.)
Links To Peel
"Birmingham area trio doing very exciting blues and blues-based material."
(John Peel, ABC Of Beauty, Disc & Music Echo, 2 Nov 1968)
Managed initially by Peel acquaintance Jim "Big Bear" Simpson (also an early manager of Black Sabbath), Bakerloo Line were spotted by the DJ playing live in Birmingham and quickly brought to the attention of Top Gear producer Bernie Andrews, as related on the 20 October 1968 TG show.
Two sessions followed, the first featuring only blues and Beatles cover versions, but the band would only release one album (as Bakerloo) before David Clempson departed to join Colosseum (and later Humble Pie).
Festive Fifty Entries
Sessions
Two sessions. No known commercial release.
- David Clempson also one session with Colosseum (1969).
- Terry Poole also three sessions with Colin Blunstone (1972, 1973).
1. Recorded 1968-09-24. First broadcast 20 October 1968.
Rock Me / Don't Know Which Way To Go / Smokestack Lightnin' / Eleanor Rigby
2. Recorded 1969-02-10. First broadcast 16 February 1969. Repeat 30 March 1969.
Big Bear Ffolly / This Worried Feeling / Feeling The Last Blues / Driving Backwards
Other Shows Played
Available tracklistings show no known plays other than sessions.
See Also
External Links