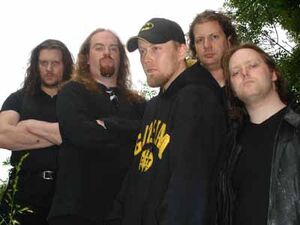 Bal-Sagoth are a symphonic black metal band from Sheffield, Yorkshire, England, formed in 1989. Originally formed as an epic/symphonic black metal band with strong death metal elements, vocalist/lyricist Byron Roberts took the name 'Bal-Sagoth' from the Robert E. Howard short story "The Gods of Bal-Sagoth". Their first demo was recorded in 1993, and Bal-Sagoth have since released three albums on Cacophonous Records, and three with Nuclear Blast. The band took their inspiration from writers and artists such as Robert E. Howard, H. P. Lovecraft, Clark Ashton Smith, Edgar Rice Burroughs, J.R.R. Tolkien and Jack Kirby.
Links to Peel
In an interview with Lords Of Metal e-zine in 2006, vocalist Byron Roberts mentioned that Peel discovered the band, when he was in a record shop and saw one of their LP's and liked the cover and the song titles, despite not hearing the group before:
"He was looking around in a record store and he saw 'Starfire…'. He had never heard from the band before, he never heard any of our stuff, he just picked it up because he liked the cover and the song titles sounded interesting. He loved it and he started to play it. As soon as we heard about that, I sent him all the other albums too. He really loved the band and became a big admirer of the band. And I was looking forward to send him a copy of the new one, unfortunately I cannot do that now cause he passed away. That's sad. He gave us a lot of support and played stuff from all the albums on BBC radio which was great." [1]
Peel mentioned on his 06 February 2001 show hoping to get the band to do a session, although for unknown reasons, it was one of the Sessions That Never Happened.
Shows Played
External Links
Community content is available under
CC-BY-SA
unless otherwise noted.