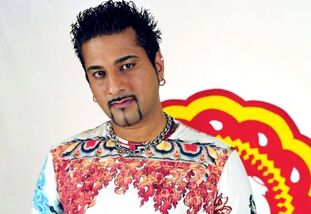 Baljit Singh "Bally" Sagoo (born 19 May 1964) is a British-Indian record producer. Born in Delhi, India, Sagoo was raised from an early age in Birmingham, England and has been active in the recording and entertainment industries since 1989. He is the producer of Bhangra albums and the mastermind behind songs and remixes, often combining raggamuffin (subgenre of reggae dancehall) and bhangra (traditional punjabi folk music) music calling it Bhangramuffin. Sagoo got his break in 1989 when Oriental Star Agencies (OSA), a local British Indian record label gave him the opportunity to remix an old Punjabi track called "Hey Jamalo". The single became a hit within South Asian owned record shops and Sagoo subsequently joined OSA as their full-time in-house producer.
In 1994, Sagoo signed with Sony Records to produce Bollywood Flashback. He became the first Indian artist to be play listed on national mainstream radio when the album track "Chura Liya" (a re-working of Asha Bhosle's song) was played on BBC Radio One. This was followed in 1996 by his first, all-original non-remix work Rising from the East, which included "Dil Cheez", which reached number 12 in the UK Singles Chart. He later toured India with Michael Jackson on the "HIStory Tour", produced the Aby Baby album with Amitabh Bachchan and was invited to New Delhi to meet the then Indian President, Shankar Dayal Sharma. In 1999, Sagoo launched his own UK music label, Ishq Records and in 2002 contributed to tracks for the Bend It Like Beckham movie. Since then Sagoo continues producing music, whilst getting involved in his record company.
Links To Peel
Peel seemed to discover Bally Sagoo through the OSA record label, who would send mainly Bhangra records to the DJ in the 80's and 90's. Bally's contribution to the Bhangramuffin scene kept Peel interested in the genre for some years in the early 90's, but by the mid 90's, Peel had lost interest with many artists such as Bally Sagoo and Apache Indian being left out of his playlist. However Peel did keep a copy of Bally Sagoo's 'Essential Ragga' in his Record Collection: S.
Shows Played
1991
1992
See Also
External Links
Community content is available under
CC-BY-SA
unless otherwise noted.