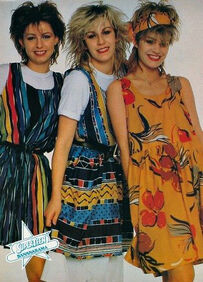 Bananarama are a British female pop music vocal group formed in London in 1979 by friends Sara Dallin, Siobhan Fahey and Keren Woodward. They released their debut single "Aie a Mwana" in 1981. The group's 10 UK Top 10 hits include "It Ain't What You Do..." (1982), "Really Saying Something" (1982), "Shy Boy" (1982), "Na Na Hey Hey Kiss Him Goodbye" (1983), "Cruel Summer" (1983), "Robert De Niro's Waiting..." (1984) and "Love in the First Degree" (1987). Since 1992, Woodward and Dallin have continued Bananarama as a duo.
Links To Peel
Peel played the group's debut single and later on their collaboration with Fun Boy Three, but he rarely played any of their material after that.
The debut Bananarama single, Aie A Mwana, was based on the b-side of the only 45 released by faux Japanese group Yamasukis on Dandelion, Peel's record label, in the early 1970s.
The Bananarama hit (with the Fun Boy Three) "He Was Really Sayin' Somethin'" was originally a single for Motown group the Velvelettes, who were a long-time favourite of Peel.
Shows Played
1981
1982
Top Of The Pops
See Also
External Links
Community content is available under
CC-BY-SA
unless otherwise noted.