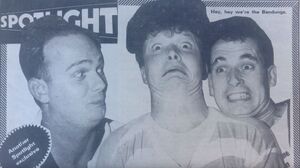 Bandung File were an 80's English indie band from High Wycombe, consisting of Paul Bacon (vocals), Steve Attwell (guitar), Pete Hendy (bass) and Screw Sawney (programmer). Apart from the members and coming from High Wycombe, not much information is known about the band and it seems that they never had a record deal or released singles or albums according to the discogs website. The name Bandung File came from the Channel 4 documentary series that looked at black and asian issues in the 80's.
Links to Peel
In 1987, Bandung File sent their demo tape in a rubber marigold glove to an indie magazine called Underground, which Peel reviewed in a section called Tip Sheet, where indie music celebrities would review demo tapes. Peel in the November 1987 issue mentioned struggling to open the marigold glove, but after hearing their demo tape, thought it be more suited for Janice Long's show. However, it seemed he changed his mind and invited the band in January 1988 to do a session for his programme, which they did. Unfortunately for the band, it looked like their session did not gain any interest from record companies and no time later, the group seemed to have split up. There is very little information on what happened to the other members of the band after they split, but guitarist Steve Attwell uploaded the band's only Peel session on YouTube in 2018.
Sessions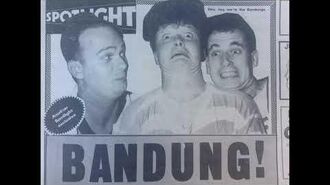 1. Recorded: 1988-01-12. Broadcast: 20 January 1988. Repeated: 09 February 1988
Handkerchief Body / Tin-legged Tap Dancer / Addicted To Robert Palmer / Garbage Town
Other Shows Played
External Links
Community content is available under
CC-BY-SA
unless otherwise noted.